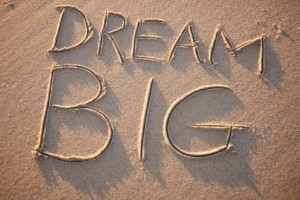 Dream BIG!  Every great dream begins with a Dreamer. Always remember, you have within you the Strength, the Patience, and the Passion to Reach for the Stars to Change the World!
Once you have the Dream in your heart, Set specific, measurable, attainable, realistic and time sensitive goals to take you step by step toward your dream.  Daily action goals need to be evaluated.
Ask yourself,  "Is the business activity that I am doing right now taking me closer to my dream?"  If not, then make a switch.  Do the hard stuff first every single day!  Your Dream can and WILL become a REALITY!